SUB
WORK IN DEVELOPMENT WORK IN DEVELOPMENT WORK IN DEVELOPMENT WORK IN DEVELOPMENT
Ashleigh Musk
Choreography & Performance

Frankie Snowdon
Madeleine Krenek
Jen Large
Collaborating Performers

Anna Whitaker
Sound Design

Jen Hector
Lighting & Spatial Design

Toni Lord
Choreographic Intern

Pierce Eldridge
Léuli Eshrāghi
Dramaturgy & Concept Development

Elliat Rich
Spatial and costume design

Ivan Trigo Miras
Photography & Videography

Lizzie Verstappen
Costume manufacturer
We live on a restless Earth. - Robert Macfarlane
We have long buried, disposed and sheltered below the surface. Tunnelling through layers of debris we link up with previously existing ecosystems, those already accustomed to living this way, adapted and adapting. Dive deeper, crack through the disappearing ice. Glaciers fall. Volcanoes rumble from the deep. Exposed craters allow us to stare directly into the earth.
In this place that both attracts and scares us, this place of darkness and hope, we engage with the terror and volatility of the living natural world.
Through our delicate handling, this discarded, junk-like object is given a sense of preciousness - precious plastic, precious metal, precious rubbish. Not only questioning where and how we will survive this ecological crisis, but also asking what we will take with us, what is needed in preparing for this new future?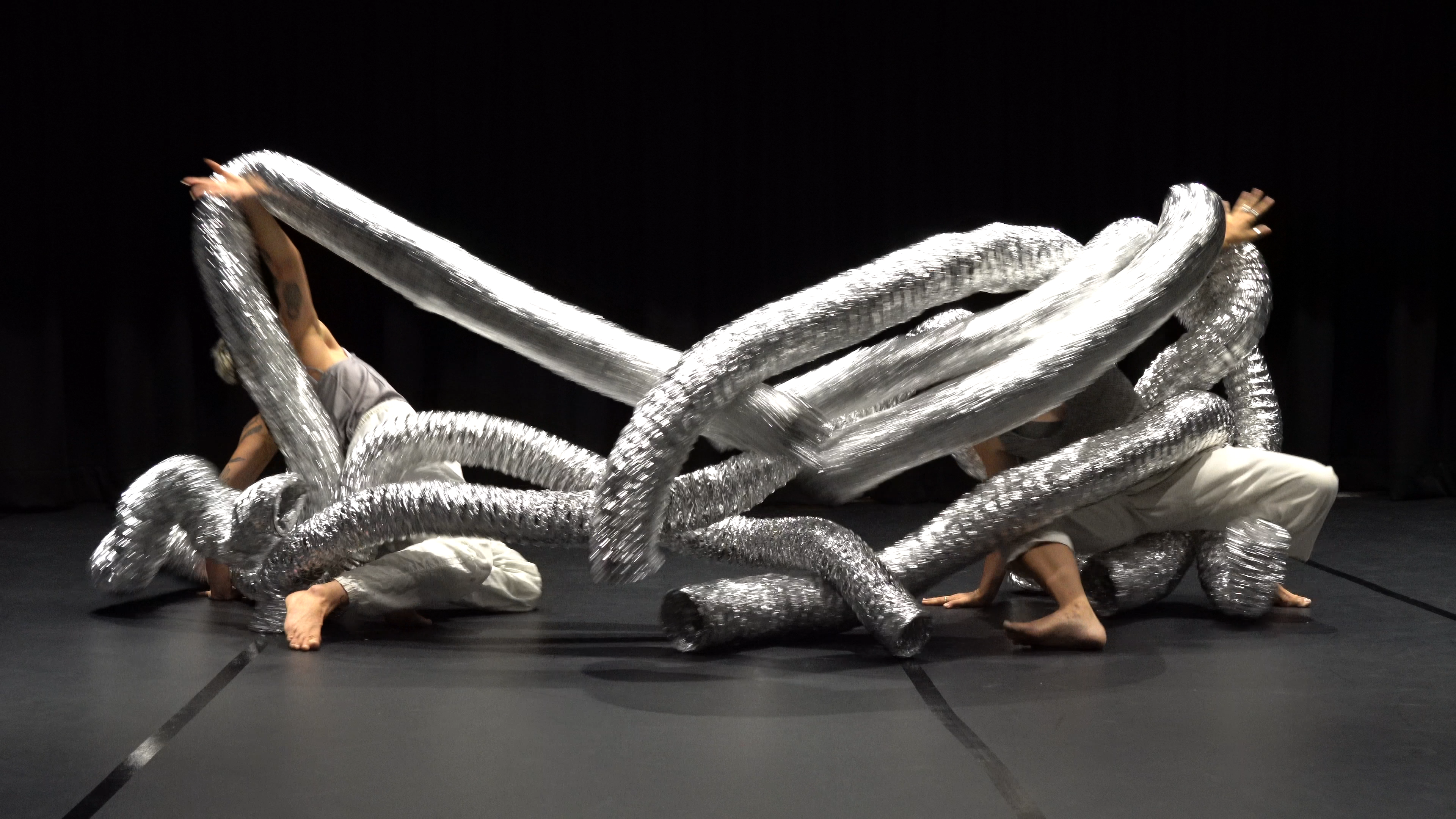 DEVELOPMENT HISTORY

2022
Creative Development
GUTS Studio / Araluen Arts Centre
Mparntwe, NT


2021
The Makers Program
Supercell Festival of Contemporary Dance
HOTA, Home of the Arts, QLD

Bath St Residency
Red Hot Arts Central Australia
Mparntwe, NT
This project is created in partnership with Tasdance and supported by the Northern Territory Government through Arts NT, Darwin Festival through the Spotlight Creative Development Fund and the Araluen Arts Centre.

Produced by GUTS Dance / Central Australia